ChefCare® is a unique full-service product delivering highly valuable information and knowledge to business owners – chefs and restaurant owners. ChefCare® compiles feedback from disparate sources on the Internet and distills it down to a super-focused report, providing key indicators about the business.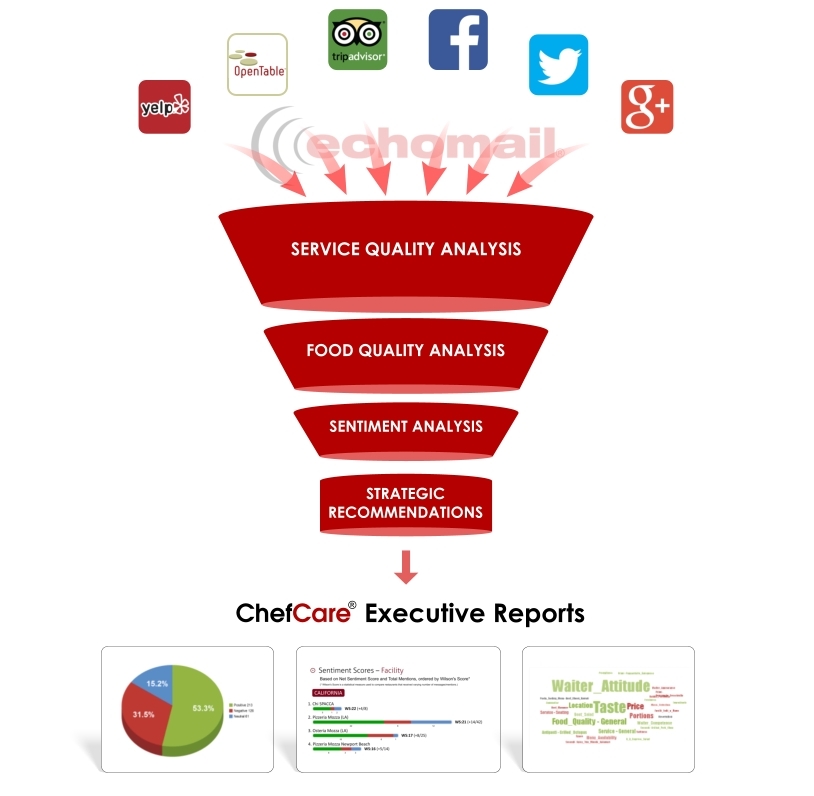 ChefCare® compiles customer feedback from sources like Yelp, TripAdvisor, OpenTable, Facebook etc.
Uses patented EchoMail® technology to analyze all comments for customer sentiment on food quality, service, facility, ambience, hygiene etc.
Distills it down to easy-to-read, super-focused reports
Provides Key Findings and Recommendations based on customer feedback
All customer data and reports are accessible online as well, at any time, by logging into ChefCare®
Restaurant owners and senior executives use ChefCare® to proactively identify and solve systemic problems
So they keep their customers happy, win back old customers and grow revenue.
ChefCare® uses EchoMail® to receive, store, analyze and report on messages from different sources on the internet. EchoMail® is a message management platform that was created for the White House by scientist-inventor Dr. Shiva Ayyadurai in the year 1994, and has since been used by many large corporations like QVC, Hilton Hotels, American Express, CitiGroup, Allstate Insurance, JCPenney, Taco John's to name a few, to not only analyze and report on their messages, but respond to them effectively as well.
ChefCare® was launched in June 2014 as an exclusive service that uses EchoMail® as its engine, to provide focused reporting and recommendations to restaurants – small, mid-size as well as large chain outlets spread across diverse geographical locations. ChefCare® also leverages EchoMail®'s business intelligence built over the last 20 years that provides the framework for analyzing and classifying messages in a dynamic and flexible number of dimensions, categories and sub-categories.
The ChefCare® Team is a holistic combination of technologists, field-experts, design and communication professionals that strives toward harvesting the benefits of advances in information technology to create useful and innovative solutions for the restaurant industry.